Welcome to Harvest Lane & The Ridge at Harvest Lane
Arvada, Colorado 80005
Harvest Lane & The Ridge at Harvest Lane - a quiet and highly desirable Covenant-Controlled Subdivision in the 80005 zip code featuring custom & semi-custom homes built in the early to mid 1990's. The majority of semi-custom homes were built by Advocate Homes, while a small handful of custom builders handled a few parcels in each filing in Harvest Lane, Harvest Lane West, Harvest Lane North, The Ridge at Harvest Lane and The Ridge at Harvest Lane Filing 2. This small community is located just West of 75th & Simms and is surrounded by popular Arvada neighborhoods in 80005 and 80007 like Double-E Ranch, Saddlebrook, Alkire Estates, Hills at Standley Lake, Village of Five Parks & Whisper Creek and just a few miles East of Leyden Rock & Candelas. The homes feature large traditional & contemporary two-stories along with a few sprawling ranch homes with 3-car garages & breathtaking mountain views priced from the mid $800's to high $900s price range. Anthony Rael is a longtime neighbor of The Ridge (since 2001) as well as your Trusted Harvest Lane Neighborhood Real Estate Advisor. I maintain a neighborhood e-News list, so if you would like to receive community announcements (no solicitations), please drop me a message via text or email.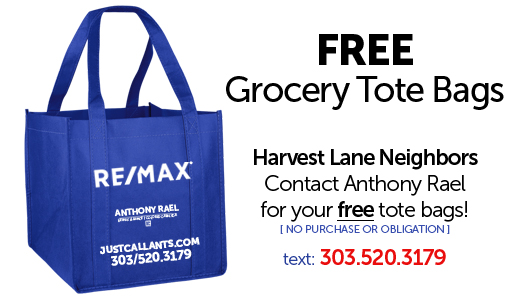 Inventory throughout the Denver area (including Arvada) are still at historic lows. It improved a bit at the beginning of 2023, but most of the inventory was quickly swooped up. The good news (for sellers) is low inventory have pushed neighborhood sales prices to up sharply over the last few years - thus creating unimaginable equity for homeowners. The flip side to the incredible home values is your 2023 tax valuations just arrived last week and are wreaking havoc because higher home values mean higher taxes. As of early May 2023, the new Jefferson County assessment postcards are showing increased home values ranging $50,000 to $300,000! These are calculated using prior neighborhood sales data from 2020-2022. If you are unhappy about the valuation, you have the right to appeal. But time is of the essence. Everything you need to know can be found here: https://www.jeffco.us/435/Appealing-Real-Property-Valuation. If you need help with comparable sales, please don't hesitate to reach out.
Without question we have a serious supply & demand issue and buyers are getting somewhat frustrated - especially since 30-year mortgage interest rates have recently risen into the 6% to 7% range. If you are thinking about selling your house, don't wait, call me today for a free market analysis to determine the true value of your house. If you're looking to move into the neighborhood, give me a call because I typically know about homes coming on the market weeks before they are listed or you can be put a waiting list! Interested in seeing homes already listed for sale in Harvest Lane?
Residents in Harvest Lane & The Ridge have access to quality Jeffco schools such as Van Arsdale & Freemont Elementary; Oberon Middle; Arvada West & Ralston Valley High Schools as well as Excel Academy Charter K-8, Faith Christian Academy K-8, St Anne's K-8 and many more. We are surrounded by an abundance of open space, parks, walking & bike trails, shopping & dining & spectacular mountain views! Conveniently located at the base of the foothills for easy access to the mountains, 20 minutes to downtown Denver & Boulder. Drive through the community and you'll see why it's such a great place to live, work & play!
This website is brought to you by Anthony Rael. Anthony hosts the "Annual Ridge at Harvest Lane 4th of July Parade" and is a 21-year resident of Harvest Lane, I'm happy to answer any questions you may have regarding the community or current real estate market. Be sure to ask about my exclusive homebuyer incentive for your kids as they "leave the nest" and venture into the world to become first-time homebuyers.
Interested in knowing how neighborhood prices are trending
in Harvest Lane & The Ridge during the past 12 months?
Call Anthony Rael at (303) 520-3179