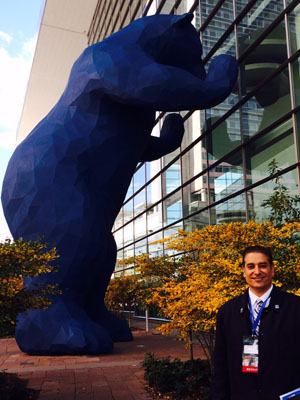 Meet Your Harvest Lane REALTOR
Anthony Rael with RE/MAX Alliance
Anthony is a 21-year+ resident of Harvest Lane and is happy to answer any questions you may have regarding the current real estate market. I am proud to host the annual neighborhood Harvest Lane 4th of July Parade. If you haven't attended in the past, we welcome to you to join us in the future. It's a lot of fun and it's a great time to meet your neighbors or just catch up with people you haven't seen in a while.
About Anthony Rael
Known to many as "Mike" or "Michael", I'm a rare Denver-native and sixth-generation Coloradoan; born in the heart of the Denver metro area (Five Points) and raised in a single-parent household. Our home and entire block was snatched up via eminent domain by the City of Denver to make room for Section 8 housing, so we migrated 20-minutes away to a culturally-diverse neighborhood in Northwest Denver just blocks away from Rocky Mountain Park and attended Sacred Heart, St. Catherine of Siena, Skinner Middle, Denver North & Regis University. My wife and I feel blessed to have experienced the rich cultural diversity and the "six degrees of separation" that so lovingly to this day binds the people of North Denver. We've leveraged our real estate investments and purchased several homes over the years including building a home from the ground up. These personal experiences provide me with first-hand knowledge to truly understand and appreciate what my clients go through during a real estate transaction. Leverage my marketing and negotiating skills to pave your way to a successful and profitable road to homeownership and financial security.
I love watching college & professional sports, playing basketball, tennis, golf, fishing, listening to music, movies, theater, dining, learning, visiting with old friends on Facebook, gardening, volunteering on Habitat for Humanity projects & serving on the Board of Directors for my local Realtor Association. Most of all, I enjoy spending time with the most important people in my life, the CEO of my household and high school sweetheart of 32 yrs & my two children. I love watching them grow into compassionate, intelligent young adults by carrying out the Christian values we have instilled in them.
I'm a "high tech - high touch" Realtor who's ready, willing & able to text, tweet & facebook, but I also value the old-school face-to-face approach when serving my clients. Read my client reviews at realtor.com
I bring 38 years experience in the service sector to the Denver metro real estate marketplace along with a high-degree of personal accountability, integrity, technical/marketing expertise and a sincere passion for delivering outstanding real estate services. By ensuring that my client's best interests are at the forefront of every transaction, I am prepared to exceed your expectations and set a new standard of service excellence in the real estate industry.
When you think about buying or selling a property in Arvada or anywhere in the Denver Metro area, please give Anthony a call at (303) 520-3179

Anthony Rael's REALTOR Credentials:

Certified Negotiation Expert (CNE)
Seniors Real Estate Specialist (SRES)
Past Chairman, Denver Real Estate Market Trends Committee for the Denver Metro Association of REALTORS®
Media Spokesperson, CAR Real Estate Market Updates for the Colorado Association of REALTORS®
Member, Professional Standards Denver Metro Association of REALTORS®
Member, Grievance Committee Denver Metro Association of REALTORS®
Member, Denver Metro Association of REALTORS® (DMAR)
Member, Colorado Association of REALTORS® (CAR)
Member, National Association of REALTORS® (NAR)
Supports the REALTOR® Code of Ethics & Standards of Practice
Served on the Board of Directors for the JeffCo Assoc. of REALTORS®
Served on the Board of Directors for the Denver Metro Association of REALTORS®
If honesty, integrity and a real estate agent's reputation are important factors to you when deciding to purchase or sell a home - I'm the agent for you. I will look out for your best interests every step of the way and promise your experience will first-class. I encourage buyers & sellers to read some recent client reviews to get a feel for my work ethic. My services are backed by a 100% satisfaction guarantee! For expert real estate advice & counseling, contact Anthony Rael, Denver REALTOR® and rare Colorado native with RE/MAX Alliance at (303) 520-3179.
Leverage my life-long knowledge of the Denver Metro area - from homes, condos, lofts or investment properties, new homes builders, schools & local amenities to reliable & trustworthy business partners like mortgage brokers & home contractors to maximize your investment, secure your future and realize the home of your dreams.

HARVEST LANE REAL ESTATE & HOMES FOR SALE ▪ SEARCH FOR YOUR DREAM HOME ▪ RELOCATING TO THE DENVER AREA
BUYING A HOME? ▪ SELLING A HOUSE? ▪ HOW MUCH IS YOUR HOME WORTH? ▪ 100% SATISFACTION GUARANTEE
CONTACT REALTOR ANTHONY RAEL ▪ CONTRACTORS ▪ CLIENT REVIEWS ▪ HOME
© 2005-2023 ▪ RIDGEATHARVESTLANE.COM | HARVESTLANENEWS.COM ▪ ALL RIGHTS RESERVED
Anthony Rael is a Licensed Colorado Real Estate Broker
Harvest Lane Homes & Ridge at Harvest Lane Website Sponsored By:
Anthony 'Ants' Rael, Expert Arvada Real Estate Agent with RE/MAX Alliance
Harvest Lane Neighborhood Real Estate Advisor & REALTOR
Harvest Lane, Harvest Lane North and The Ridge at Harvest Lane - A Covenant-Controlled Community

AnthonyRael.REALTOR | HomesInColorado.info | SearchHomesInDenver.com | HomesForSaleDenverColorado.com