Interested in knowing what the real estate market is like in Harvest Lane?
Anthony Rael is a 21-year resident of Harvest Lane and is happy to answer any questions you may have regarding the current real estate market. I am proud to host the annual neighborhood Harvest Lane 4th of July Parade. If you haven't attended in the past, we welcome to you to join us in the future. It's a lot of fun and it's a great time to meet your neighbors or just catch up with people you haven't seen in a while.
Property values in Harvest Lane are going up sharply!
When you think about buying or selling a property in Arvada or anywhere in the Denver Metro area,
please give Anthony a call at (303) 520-3179
Feel free to call me at (303) 520-3179 for a brief conversation, get some stats and hear my thoughts on where our market has been and where we're going. In addition to Anthony Rael's expert knowledge of Harvest Lane & The Ridge at Harvest Lane (HARVESTLANEHOMES.COM), I have an abundance of tools at my disposal and can check comparables sales throughout the entire Denver metro area, give you a quick price opinion on your property and can even help you determine what the value of a kitchen, master bath or basement renovation or upgrade in your home is worth so you have an idea what your return on investment (ROI).
This Harvest Lane & Ridge at Harvest Lane "Heat Map" below from shows the change in estimated home values in the past 12 months. If your interested in learning the estimated value of your home, please call Anthony Rael at (303) 520-3179 for a FREE, no-obligation home market evaluation.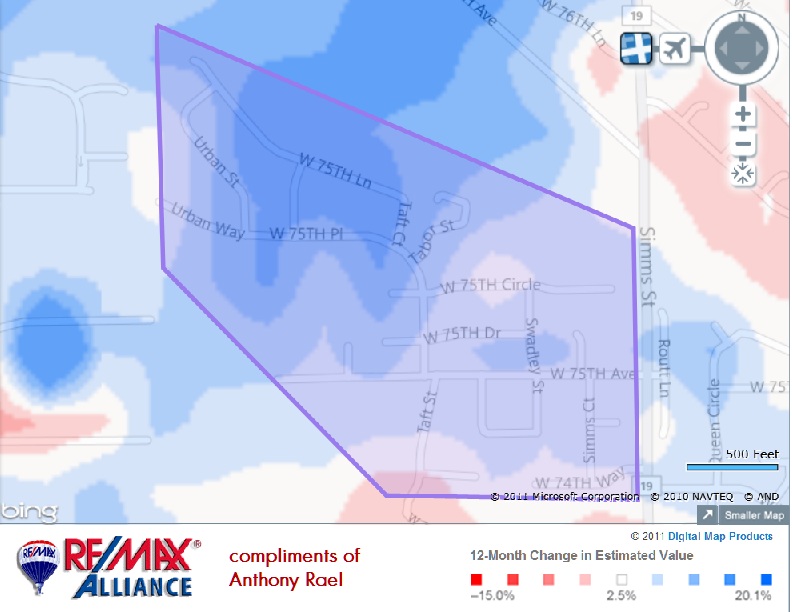 HARVEST LANE REAL ESTATE & HOMES FOR SALE ▪ SEARCH FOR YOUR DREAM HOME ▪ RELOCATING TO THE DENVER AREA
BUYING A HOME? ▪ SELLING A HOUSE? ▪ HOW MUCH IS YOUR HOME WORTH? ▪ 100% SATISFACTION GUARANTEE
CONTACT REALTOR ANTHONY RAEL ▪ CONTRACTORS ▪ CLIENT REVIEWS ▪ HOME
© 2005-2022 ▪ RIDGEATHARVESTLANE.COM | HARVESTLANENEWS.COM ▪ ALL RIGHTS RESERVED
Harvest Lane Homes & Ridge at Harvest Lane Website Sponsored By:
Anthony 'Ants' Rael, Expert Arvada Real Estate Agent with RE/MAX Alliance
Harvest Lane Neighborhood Real Estate Advisor & REALTOR
AnthonyRael.REALTOR | HomesInColorado.info | SearchHomesInDenver.com | HomesForSaleDenverColorado.com
Arvada Report News - » Arvada Report - Summer Guide | » Arvada Report - June 2022
Community Info - » Neighborhood Watch Program | » 4th of July Parade | » Covenants (Refer to Your CC&Rs) | » Protecting Your Pets
Permits & Code Enforcement - » Do I Need a Permit for That? | » Trash & Recycling Code | » Arvada Code Enforcement
City Services - » Emergency Preparedness | » Getting Involved | » Pets & Wildlife | » Social Services
Real Estate Updates - » Current Market Stats & Trends | » Arvada, Colorado Homes For Sale | » Arvada Housing Reports
Harvest Lane, Harvest Lane North and The Ridge at Harvest Lane - a Covenant-Controlled Community